Our Farmers
We only source from small family farmers.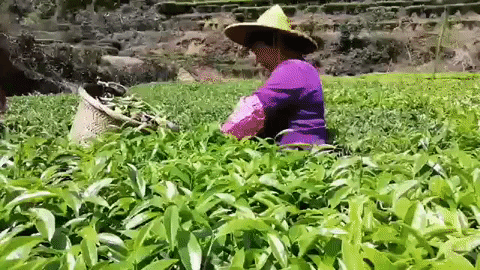 The best tasting teas in the world come from small family farmers. By sourcing from them, we're actively promoting responsible clean growing techniques, innovation and improvement, a sustainable living for the people that make tea farming their life, and the appreciation for the ancient craft of tea making.
But directly sourcing tea from local family farmers, particularly from China, is still a fairly rare concept. Perhaps this is due to the high effort required in forging genuine personal relationships with them, something that isn't easily scalable or cost-efficient for larger wholesale companies. While I was working at a major tea corporation, I found that they were sourcing their tea from large commercial farms; their cheaper, machine-plowed, low-grade tea was pumped with artificial flavoring to mask its lousy taste. That's not right.

Esteas is here to change that: we believe in full transparency and are happy to share with you the personal story behind your tea.
The Wei Family: Chaozhou, Guangdong (Chinese: 潮州,广东)
The best tea is picked in the spring. In May 2019, I traveled to the Phoenix Mountains in Chaozhou to watch it all happen!
For over 900 years, the Phoenix Mountain has uniquely cultivated the most high quality, aromatic oolong teas due to the high elevation and exceptional terroir. This preserved method uses a rare cultivar called dan cong which translates to 'single bush'. As these tea plants grow into old tea trees, complex flavors fuse into the nutrient dense leaves, allowing farmers to produce rare, high quality, delicious Oolong tea.
I met the Wei Family: third generation family farmers, the family consists of Mr. and Mrs. Wei and their three young children. Mr. Wei manages the tea farm and obsesses over the tea making process, while Mrs. Wei handles the business side. The family takes pristine care of the soil and do not use pesticides so their farm can be passed down to future generations. Growing up on the farm, the children have a deep connection to their land and are culturally rooted in tea; the eldest daughter takes cultural gong fu tea classes where she masters the art of tea pouring.
Mr. and Mrs. Wei are two extremely hard working young parents making an honest living supporting their small family. Although their jobs may be strenuous at times, the family has a deep passion for tea and wouldn't trade their livelihoods for anything. Choosing them as Esteas' first partner was an easy decision: not only do they produce phenomenal oolong tea and commit to their craft, they were extremely generous and hospitable towards me and even prepared a homemade meal with fresh produce from their garden. It was one of the best meals I'd ever had!
Did you know?
The best time of the day to pick tea is from noon to 2pm when the sun is at its hottest and the wind is blowing from the north - the tea leaves are the most flavorful as the plant cells are most active in the sun.
Each year, the harvest yields different tastes depending on the environmental conditions - the Wei family farm relies on natural rainfall to water their tea plants.